Told by founder James A. Hart
James A. Hart is the founder of Coca-Cola Bottling Company of Santa Fe. He tells about the early years starting out as an independent bottler and running the family business.
1919
J.A. Hart, known to my friends as Al, "invested my first earnings shortly after arriving in Santa Fe in a Coca-Cola Franchise. I bought the franchise on December 15, 1919.
From this day on, I devoted most of my time and energy to making the company part of Santa Fe. Our first plant was an old frame building on Montezuma Street and the Santa Fe Railroad tracks.
Bottles were washed by hand. Coca-Cola and 14 other flavors were produced on a foot-powered machine. The bottle capper worked by hand crank. We turned out ten to twelve cases an hour. Bottling once-a-week was time consuming. A helper and I would make the rounds delivering Coca-Cola and other flavors to our customers in an old wagon which our faithful horse, 'Ike', pulled.
Two of our first good customers were Theo Roybal's Grocery and Kaune's Grocery, which was then on San Francisco Street. (Kaune's is still one of our best customers.)"


1920
"Our business increased from 25 gallons to 50 gallons because of the increasing population of Santa Fe, which reached 7,236. We were able to put 'Ike' out to graze and get a Model T. Our fast, new car enabled me to line-up accounts in Chamita, Española and Tesuque. We were happy to see the business expand!"


1921
"I kept my nose to the grindstone and continued to comb the brush for new customers."


1922
"I took on a partner – one who has proven to be a lifetime partner. I was married on June 22nd. This was a real boon to my business!"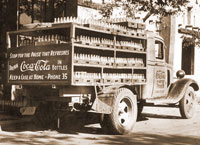 1923
"We were thrilled to have our growing customer list total fifty. I spent more and more time promoting goodwill at various community functions: baseball, basketball and football games, wrestling matches, boxing exhibitions, etc. With the arrival of our first son, Albert E., the posterity of our Cola-Cola business seemed assured."


1924
"It took our Model T and a new Model T delivery truck to handle our customers. Service improved greatly. We could rush a case of Coca-Cola over to a customer; whereas, before we had to wait for our Model T to return from scheduled deliveries."


1925
"Our second plant boasted a bright stone façade, instead of an old frame one. We were thrilled about the move. Although the space was the same, we no longer had to worry about having the heat affect our operation in the summer. One of our big volume accounts this year was Gross, Kelly & Co."


1926
"Hoorays echoed through the bottling room that morning when we replaced our worn-out pedal pusher with an electric bottler. Now, we were able to increase our bottling to fifty cases an hour. Best of all, we did it without expending our entire efforts."


1927
"Gene With, my brother-in-law, became my part-time production man and salesman."


1928
"On September 20th, our second son, Robert L. was born."

1929
"Tourism took a nose dive. So did our sales! As sales dwindled, our staff had to be cut. But we all worked a little harder for a little less."



1930
"Fifty percent of our business was shipped out on the Denver and Rio Grande Railroad. The other half of our production was consumed by Santa Fe's seemingly vast population of 11,176."


1936
"The population of Santa Fe was estimated to be 12,489 having increased approximately 1,313 during the five years from 1930 to 1935."



1938
"We started making plans for a bigger home for our company."


1942
"Due to sugar rationing imposed because of World War II, we had to discontinue bottling flavors and concentrate on Coca-Cola."


1945
"Use of the trade-mark 'Coke' was begun."



1952
"Although we doubled the size of our building, it was still too small to take care of the growing demand for our products, so we expanded it three times, and were comfortable there until 1959."

1954
"With the acquisition of Los Alamos, the number of dealers handling 'Coke' extended to 780."


1955
"We started using 'King' and 'Family' sized bottles on our production line."


1961
"Sprite was introduced."


1963
"With diet drinks becoming more popular, we added 'Tab' to our line of beverages."


1964
"It was a happy day when we acquired our new plant site property at 660 West San Mateo Road."


1966
"To keep up with the expanding dietetic market, 'Fresca' was introduced."


1967
"The need for more space became a necessity, forcing us to complete our plans and break ground for a new plant. When the move to our new home was completed, everyone was enthusiastic. Now we had 27,000 square feet to house our facilities and for future expansion."


1968
"My son, Robert, became General Manager of the plant. My daughter, Joann, continued in her capacity as Office Manager. My son, Albert E., assumed responsibility for the Vending Operations."